Nunavut Trichinella Detection Program
Since 2017, Nunavut Arctic College and Nunavut Tunngavik Incorporated (NTI) have worked together to offer a diagnostic service for the Trichinella parasite in wildlife. Trichinella is a nematode parasite that is present throughout the world and can infect most mammals and other vertebrates including birds and reptiles. The species of Trichinella found in the Arctic (Trichinella nativa) is known to infect Walrus, Polar Bear, and several other marine and terrestrial mammals. People who consume raw or uncooked meat from animals infected with Trichinella can become sick with an illness called Trichenolosis (or Trichinosis); and there have been several outbreaks of Trichinellosis in Nunavut linked to the consumption of infected walrus meat.
The only way of diagnosing whether a harvested animal is infected is by identifying Trichinella larvae in that animal's muscle tissues. The NRI's diagnostic program is uses a very precise and reliable laboratory technique developed by the The Canadian Food Inspection Agency (CFIA) called the Double Separatory Funnel Procedure to detect trichinella larvae in animal tongue tissues. Testing is focused primarily on Walrus and Polar Bear; although the diagnostic procedure can be used on almost any mammal. The NRI's diagnostic program follows a quality assurance plan, and all analysts complete proficiency evaluations with the Canada Food Inspection Agency twice annually to ensure that they are competent and capable to provide this important diagnostic testing service to Nunavummiut which helps to help prevent Trichinellosis infections and supports Nunavummiut in enjoying their traditional country foods.
To learn more about how to collect and submit wildlife samples for testing, click here (English) or here (ᐃᓄᒃᑎᑐᑦ). Please be sure to include a sample submission form (English or ᐃᓄᒃᑎᑐᑦ) with every sample you send us for testing!
| | |
| --- | --- |
| Daniel Taukie (NTI) and Jamal Shirley (NRI) examine digested walrus tongue samples to identify trichinella larvae | Joel Mike (NRI) prepares walrus tongue samples for analysis |
| Digital photograph of coiled trichinella larvae (middle right above) microscope at 40x magnification | |
---
Research Support Fund
The Research Support Fund assists the Nunavut Research Institute (NRI) in supporting research activities funded by Canada's three federal granting agencies. Further information on the fund can found at www.rsf-fsr.gc.ca. NRI has utilized the Research Support Fund for a variety of improvements to our library, laboratories and administrative areas to better support a broad range of research activities.
Funds received in 2017-2018 were used primarily for the management and administration of on-going research projects, for professional development of the institute's staff, for upgrades to the NRI website www.nri.nu.ca, and for renewal of periodicals and fees associated with the NRI research library.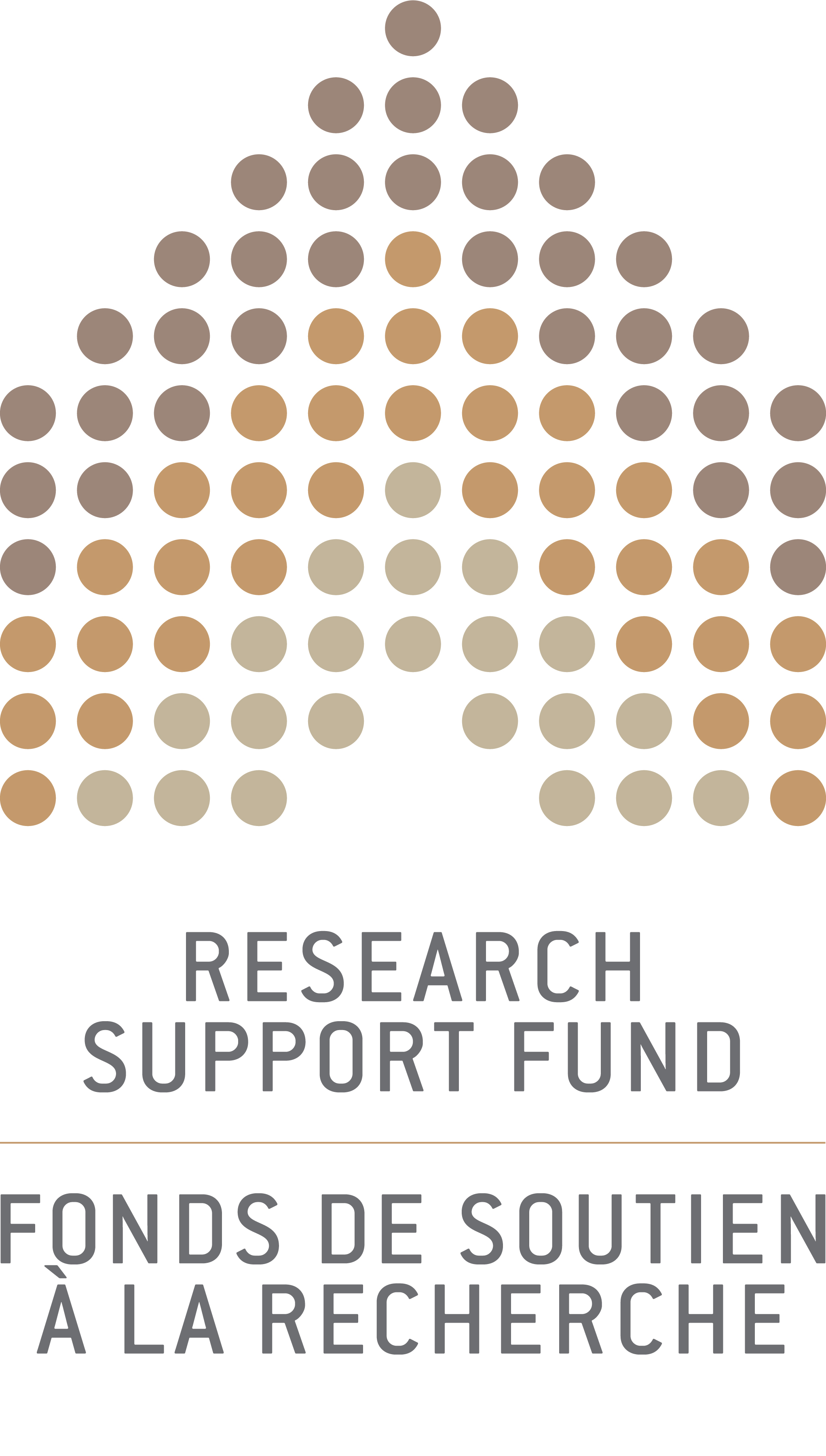 ---
Lightning Detection
Nunavut Research Institute hosts a lightning detection unit for The Weather Network. The unit detects lightning over Hudson Bay and Davis Strait up to 70 degrees north latitude. Information received contributes to the calculation of lightning strikes and patterns across Canada. This monitoring program will help expand our knowledge of how lightning patterns in the Arctic are changing over time and how this might be influenced by changing global climate.

---
Photovoltaic Array
In 1995, a 3.2 KWp grid-connected photovoltaic system was installed on the façade of Nunavut Arctic College's Nunatta campus in Iqaluit to demonstrate the effectiveness of photovoltaic technology for power generation in an Arctic climate setting. Since it was installed, the array has functioned without interruption, continuously delivering electricity to the community power grid. Each year, the array produces enough electricity to power the lights in one classroom for about 120 days. In 2014, new data logging equipment was installed and the system is monitored continuously by Natural Resources Canada.

---
Geomagnetic Observatory
The Geomagnetic Observatory in Iqaluit is owned by the Geological Survey of Canada (GSC) but operated by the Nunavut Research Institute. NRI collects data at the observatory weekly. The data provides GSC with the necessary information to calculate the earth's magnetic declination (position of the North Magnetic Pole), which appears to be drifting gradually over time for reasons not completely clear. This information is potentially valuable for navigation, global positioning, and telecommunications.

---
Partnership for integrated hydrological monitoring, research, and training, in the Apex River watershed
With funding from POLAR Knowledge Canada, the NRI and NAC's Environmental Technology Program partnered with researchers from Carleton University, Queen's University and Environment and Climate Change Canada to conduct a three-year water research and training project in the Niaqungut (Apex) River watershed. Activities include measurement and modelling of water quality and quantity, with a major focus on accurate determination of the annual, end-of-winter snow accumulation with intensive ground-based surveys.
Each April, snow surveys are conducted by ETP students over the course of 3-5 days to quantify the landscape snow water equivalent or SWE (the amount of water stored in snowpack on the landscape) prior to the spring melt period. Automated measurement of snowfall amounts is particularly challenging in Arctic tundra landscapes due to high winds, making it important to measure the end of winter SWE on the ground. These data can be used to accurately track year-to-year changes in annual snowfall, which accounts for about half of the annual precipitation in this region, and its potential longer-term changes in response to climate warming. This partnership aims to build capacity for long-term SWE monitoring and to continue this important observation record for years to come, in support of water balance assessment and water security initiatives in the community of Iqaluit.
Freshwater quality monitoring of the Niaqungut River was also conducted from 2012 to 2017, including weekly stream sampling for dissolved organic carbon and nitrogen, total nitrogen and phosphorous, and major anions and cations. At one nearby lake, water quality and zooplankton sampling was conducted in early July and in late September just prior to freeze-up. Zooplankton samples are enumerated for both total biomass and species composition, and measured for total mercury content. These data will be used to understand seasonal and inter-annual variability in surface water quality regimes and how they are influenced by hydrologic processes and change. Our goal is to continue these sampling efforts as part of a longer-term monitoring issue, in combination with hydrometric gauging and annual, end-of-winter snow surveys.
In 2017, POLAR funds were received to install a new micrometeorology station approximately 4 km from the community of Iqaluit, including a state-of-the-art Eddy Covariance (EC) system for measuring water, energy and carbon dioxide exchange over the tundra ecosystem. The EC system is currently operational and is filling an important data gap for this region of Canada's eastern Arctic.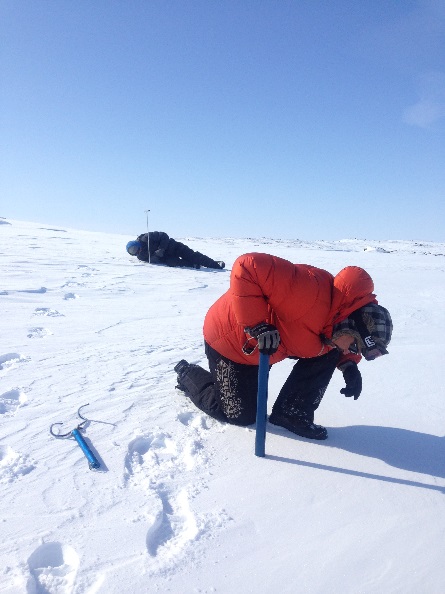 Rindy Hinanik Measures snow depth in the Niaqungut watershed using a snow coring tube (April, 2016)
---
Apex River Microbial Monitoring Project
In 2009, NRI initiated a project to monitor indicator bacteria (total coliforms and Escherichia coli) in the Apex (Niaqungut) river, which has been selected as a supplementary potable water source for the community of Iqaluit. This long-term monitoring program has been conducted annually every year since 2009 and will provide baseline information on microbial water quality trends during the annual open water period (approximately from June to October). We hope to determine the timing of seasonal peak loads of bacteria, and understand how factors such as river discharge, water temperature, and organic carbon might influence bacteria levels. Every year we work with students from Arctic College's Environmental Technology Program to collect and test river water samples from drinking water collection sites utlized by community members. Water samples are processed at the NRI's water lab in Iqaluit using defined substrate technology (IDEXX) which allows for rapid, reliable, and simple detection and enumeration of total coliforms and E. coli in surface waters and can be employed effectively for community-based monitoring.
For more information on the water monitoring project, please contact Jamal Shirley, NRI's Manager of Research Design.
---
Resources and Sustainable Development in the Arctic
Resources and Sustainable Development in the Arctic (ReSDA) is a major research collaboration that brings together a broad range of disciplines and organizations representing universities, colleges, communities, government, the private sector and non-profits in northern Canada and other circumpolar countries. This northern research network has offices in the Yukon, Northwest Territories, Nunavut, and Nunavik. The network's research is all focused on one key question: How can we ensure that a larger share of the benefits of resource development stay in the region with fewer costs to communities?
Beginning April 1, 2011 this network started to develop, conduct and mobilize research aimed at the sustainable development of Arctic natural resources in a manner that will improve the health and well-being of Canada's northern communities while preserving the region's unique environment. For more information visit the ReSDA website.