Fully functional wet laboratories, each approximately 450 square feet in size, are key features of the NRI and Environmental Technology Program (ETP) facilities in Iqaluit. The NRI laboratory is designed to support a broad range of sample processing, preparation, and analytical activities while the ETP laboratory serves primarily a teaching laboratory, but can also accommodate diverse research uses. The NRI and ETP laboratories are available for use by NAC students, staff, and faculty, and by licensed researchers for teaching and research activities.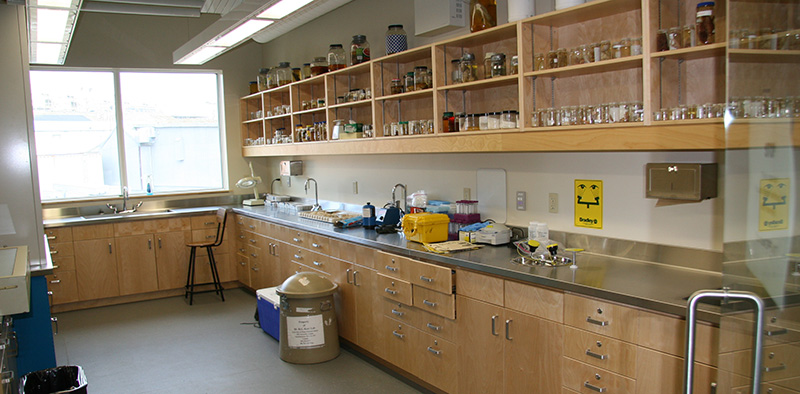 Some of the key features of the laboratories:
hazardous chemical storage cabinets
Labconco chemical fume hoods (2)
locking cupboards
telephones
stereomicroscopes
stainless steel counters
pot sinks (2) and full sinks (2)
assorted glassware
eye wash station, first aid and burn kits, chemical spill kits
Direct Mercury Analyzer (DMA) 8520
large environmental chamber (incubator)
autoclave
lab fridges
Large chest freezer
Individuals may apply to use the NRI/ETP laboratories by completing an NRI logistics support request form . Completed request forms must be submitted electronically to NRI's Manager of Scientific Support services, Rick Armstrong, at rick.armstrong@arcticcollege.ca
Lab users must have appropriate training in safety protocols, and are expected to bring with them all instruments, chemicals, personal safety equipment (eye ware, lab coats, gloves), and any consumables (e.g. pipettes, tubes) required to safely complete undertake scientific work. Lab users must also plan to dispose safely of any lab wastes they generate, and must remove all unused chemicals and supplies from the NRI/ETP laboratories upon completion of their use of the facilities. Users may make arrangements with the NRI manager of scientific support services to store instruments for future use, if appropriate storage space available.

Safety in the NRI and ETP laboratories
All laboratories can be inherently dangerous places, and the attitudes and practices of individual laboratory users will determine their own safety that of other lab users, and ultimately the safety of the whole community. The Nunavut Research Institute's laboratory facilities in Rankin Inlet, Cambridge Bay and Iqaluit are not supervised by NRI staff. Users are completely responsible for conducting activities in a manner that will not endanger themselves or others, and for exercising all reasonable care in activities that may pose a risk to the environment.
NRI is in the process of updating our laboratory safety guidelines and standard operating procedures.
*Please notify the NRI's manager of scientific support services in advance if you plan to transport chemicals to the NRI laboratories to support your lab work. Please clearly disclose:
the type and quantity of all chemicals and chemical mixtures you will be bringing to the NRI laboratory, and how the chemicals will be used in the lab;
the mode for transporting chemicals to and from the laboratory;
personal protective equipment you are bringing to work safely with chemicals;
Arrangements to remove unused chemicals from the NRI laboratory and/or procedures and materials you will employ to neutralize and dispose of unused chemicals on site.
Small quantities of chemicals required to undertake lab activities may be stored in the NRI laboratories in properly labeled containers while such lab work is in progress (i.e. for the duration of your research visit). Users must remove or safely neutralize and dispose of any unused chemicals upon completion of your lab work. LONG TERM STORAGE OF CHEMICALS IS NOT PERMITTED. Users must plan carefully and bring the minimum quantity of chemicals required to complete lab work. Every effort should be made to avoid having surplus chemicals at the completion of lab work. Be advised that laboratory chemicals are classified as dangerous goods under federal transportation legislation. Shipping lab chemicals out of Nunavut requires the services of a certified dangerous goods handler, and such services are very difficult to obtain in Nunavut communities, including Iqaluit.